Year 6 Leadership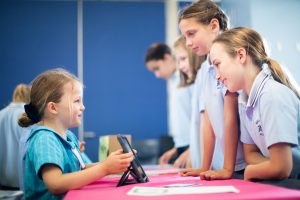 Leadership is encouraged and developed in all aspects of classroom life. All the things outlined in this section play a part in helping children understand themselves, grow as learners and develop as leaders. At Maria Regina we want children to have the experience and to understand that every child is a leader and that leadership is a responsibility we all share. All students, be they in Kindergarten or Year 6, have an important and public role to play in contributing to the school community.
Student Leadership Structure
All Year 6 children will be seen as having a significant role to play as a student leader. At the end of Year 5 students prepare for Year 6 leadership roles. Students reflect on their strengths and align their strengths to leadership teams. We feel team leadership is paramount to our student body as our teams further develop their strengths and share their gifts and talents to enhance our school. The student leadership structure consists of:
The Well Being Team
IT Team
The Arts Team
The Eco Team
Each team is allocated a 'teacher mentor', who helps to guide and implement decisions and initiatives created by the team. Leadership is demonstrated through the following ways;
Leading whole school initiatives e.g. Well Being Week, Environment Week, Book Week,
Student Voice- acting as advocates for other students
Leading Monday and Friday assemblies
Communicating ideas to the student body
Representing the school at Diocesan and wider community events
Assisting in school decisions making processes
Promoting Maria Regina during school Open Days
The process begins in Year 5, whilst the students are learning about the qualities of a leader and leadership styles. During our leadership day the current Year 6 teams reflect with our Year 5 students about their success and areas they would like to further develop in the school. This valuable experience gives our Year 5 students an understanding of our team leadership expectations. The Year 5 students use the reflection notes to further plan for the following year. During the Leadership day Year 5 students nominate themselves for three teams and give reasons as to why they would be a great leader in this team. The staff interview each student and looking at their strength and decide upon the teams. The school welcomes new leaders at the end of our Leadership day. Leadership badges are distributed the following year at the Opening School Mass.
The leadership teams are a valued part of Maria Regina's school community and allow for students to experience a distributed leadership model. All year six students are included in leadership teams and experience many opportunities to grow in confidence and self-assurance.
Additional to our teams students have the opportunity to fulfil the following leadership roles
School Captains
Vice Captains
Colour  House Captains
Band Captain