As a Catholic school, Maria Regina seeks to strengthen a shared understanding of the central purpose of our school by modeling the Gospel values of inclusion, compassion, human dignity, justice and service as declared in the school's Mission Statement.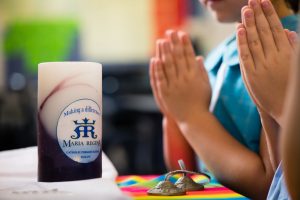 There is a deep commitment to working together to build a community of disciples of Jesus. We proclaim the message by promoting a Catholic Worldview, which embraces the presence of God in our daily life, in the Eucharist, in the Sacred Scripture and in the living tradition of the Church.
The Catholic Worldview is carefully embedded in the whole curriculum promoting an obligation to work to create social and environmental conditions that promote the care and respect of every person and all of creation.
Our Catholic Vision
Maria Regina Catholic School has a rich past and was opened by the Good Samaritan Sisters in 1959. The school both then and today continues to "strive to make a difference."
The life of the school is based on Gospel values where the worth of each individual is recognised. Students are encouraged to respond to the invitation of the call to Catholic discipleship. This is achieved by a reflective response to God's action in our world and particularly in our lives. All members of the Leadership Team are faithful Catholics who are ready to embrace the mission of the Catholic school today and to lead and inspire their staff and parents.
Download our School Prayer