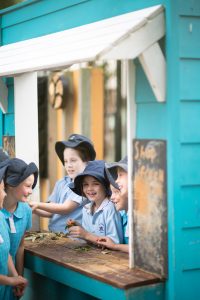 Welcome to Maria Regina Avalon!
As a member of system of schools known as Catholic Schools Broken Bay we seek to inspire hearts and minds to know Christ, to love learning, to use their talents to be the very best they can be.
Our principal, teachers, staff and parents all work together with the wider community to deliver authentic, professional Catholic education with care and compassion.
Our teachers are committed to the mission of Catholic education and apply evidence-based practice to support students to learn and to gain the confidence and skills to enable them to be involved in shaping their society.
DO YOU NEED TO BE CATHOLIC TO ATTEND A CATHOLIC SCHOOL?
No, your child does not need to be Catholic to enrol at a Catholic school. While preference is given to students of the Catholic faith, particularly if you are active in your parish, our schools welcome families from all backgrounds or faith traditions who share in our mission and purpose.
K-12 Enrolment
Catholic Schools Broken Bay will offer K-12 enrolment during 2021. This will provide you with some surety around enrolment in our systemic secondary colleges for your child.  As the option becomes available, you will only need to provide one enrolment form in primary school and complete a simple updated form to ensure your child's continued enrolment in one of our systemic secondary colleges.
Enrolling now for 2022
As one of the best primary schools on the northern beaches, enrolling in Maria Regina Catholic Primary School is an excellent choice. Our location metres to Avalon Beach makes us a sought-after school by local and international families seeking a diverse education based on Catholic values.
Your child will receive rich academic, sporting and cultural learning here. We are an intimate school with abundant opportunity for your child to shine and be valued for their individuality and talents. Supported by a dynamic, uplifting community, we are a school who cares about our families, students, staff and the environment.
You are welcome to come for a tour of Maria Regina or meet the principal by Zoom anytime. Please contact us and we will be in touch to book a time.
How to enrol
Enrolment applications are open throughout the year. Application is a straightforward process that begins by completing this online form and providing the following:
Birth certificate
Immunisation record
Baptismal certificate
We will then contact you to meet with our principal by Zoom or in person at school.
You will only receive one enrolment offer from one Catholic school to maintain fairness for all families in our area.
Online Enrolment Form
Enrolment Checklist
Standard Collection Notice
Kindergarten enrolments
New Kindergarten enrolments are welcome throughout the year. Families wanting to enrol in Kindergarten will be invited to meet the principal in May or June and can enjoy a tour of our school to get a feel for all that we have to offer your child.
Kindergarten applications follow the same enrolment process as above. Download your enrolment form here.
School fees
We aim to keep our fees as low as possible and we are committed to making Catholic education accessible for your child, regardless of your financial circumstance.
We will never exclude a Catholic student from attending our school because of financial hardship. If you would like to organise a payment plan to make it easier to manage your school fees, please contact the Fee Liaison Unit at the Catholic Schools Office schoolfees@dbb.org.au or email our principal.
School Fees 2021
CONTACT MARIA REGINA