Japanese is an additional subject area that all students K-6 study at Maria Regina.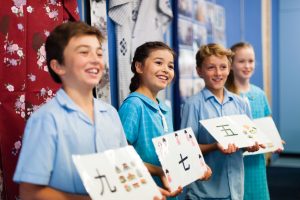 Students learn about Japanese culture and language through the key learning areas of:
Reading
Writing
Listening
Speaking
We encourage a positive attitude towards learning a language. This provides an opportunity for students to become more accepting of diversity and develop skills to be competent language learners in years to come. Learning a language during Primary school has aided to developing pronunciation in Japanese.
Through our Japanese program students learn to:
Use their language skills in real life situations
Develop a cultural awareness of Japan
Participate in a variety of cultural activities including origami, calligraphy, dressing up in traditional Japanese clothing, tasting Japanese food and sports
Read Japanese Hiragana characters
Write Japanese Hiragana characters
Speak Japanese
Listen to Japanese
Learn the Japanese syntax to create their own sentences
Learn about Japanese cultural festivals and practices
Learn about life in Japan
Introduce themselves in Japanese and ask questions about others
A Japanese school visited us from Tomeikan.  Click here to view.