A warm welcome to our international and interstate students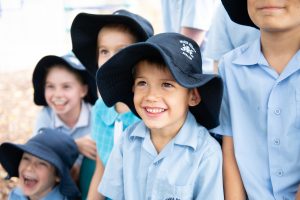 International and interstate students are valued members of our diverse school community. Every year we welcome a growing number of families from all faiths and backgrounds. We currently have students from the Netherlands, USA, Japan, Thailand, Switzerland, Slovakia, Norway, Germany, France and the UK.
Life at Maria Regina
We are one of the best primary schools on the northern beaches with a rich curriculum, eco-friendly grounds and a nurturing Catholic community. You will find engaging opportunities for your child to explore their talents, expand their skills and create their own pathway to high school with us.
When you join our school, you are embraced by an intimate community who value the connection, friendship and support that come with being a Maria Regina family.
A rich, engaging curriculum
Education at Maria Regina creates global citizens through authentic learning experiences. Students enjoy design thinking and STEAM is integrated in many subjects to develop collaboration, critical thinking, creativity and problem solving.
Our curriculum can be adapted to meet your child's needs and your current educational system. Your child will continue to receive challenging learning experiences that are right for their stage.
Gifted and talented students can join our enrichment program and we have a Learning Support Teacher for students who have extra learning needs.
Extra curricular activities will enrich your child's learning in interests as broad as music, chess, dance, public speaking, sport and more. Specialist lessons are offered in Japanese, Music, Art, Sport and Library.
Smooth transition for an easy start
Moving to another state or country is a time of change for families. We will work with you to make your child's transition to school smooth, starting with a one-on-one meeting with our principal by Zoom or in person at school.
We will connect you with other school families and give your child a buddy at school so they always have a friendly face to turn to.
Your child's teacher will adapt their teaching to suit their learning stage and a dedicated class parent will introduce you to other families in your class. You'll soon feel comfortable, settled and embraced by our friendly community.
For Kindergarten students, our transition to school program assures a gentle start to school.
Our before and after school care operates in the school grounds and gives you flexibility to work beyond school hours knowing your child is safe, stimulated and well looked after.
Avalon and the northern beaches
Maria Regina is located metres to Avalon Beach, with cafes, shopping and Woolworths supermarket a walk away. Buses regularly connect you with the rest of the northern beaches and the Sydney CBD which is under one hour away. Manly Beach is a 40 minute drive and there is a beautiful coastline of beaches, waterways and natural beauty to explore at your feet.
Enrolment for international and interstate students
You are welcome to book a Zoom session with our principal to have a chat and get a feel for our school. Finding the right school for your child is fundamental to a happy time here in Sydney and we welcome any questions you may have after our Zoom meeting by email with our principal.
Find our enrolment forms and information here.
Once you are enrolled you are welcome to attend an orientation day on arrival to Sydney. You can tour the school and your child will spend a day with their class and meet their teacher.
Uniforms are available online and can be delivered to the school or your home address in Sydney prior to your commencement date. School shoes are not available at the uniform shop and need to be black leather enclosed shoes for our normal uniform. White runners are worn with our sports uniform.
To view our Virtual Tour, or to see what a typical day at Kindy at Maria Regina is like click here
Email mra@dbb.catholic.edu.au
Phone +61 2 9918 2608
CONTACT US